The Farm Kitchen is open every day from 9am
Join us for delicious breakfasts and lunches, licensed bar and amazing specials on Friday, Saturday and Sunday.
The Café will be closed from
11th December until 5th January 2024
Quality local ingredients, cooked to order by our fabulous chefs!
Pizza Night 
Now finished for the season. Back in 2024!
Friday Fish & Chips
Come and join us this Friday for our ever-popular fish and chips night. Delivered from Newlyn market just hours before service, it doesn't get much fresher! Golden crispy batter, chunky chips, homemade mushy peas and tartare sauce.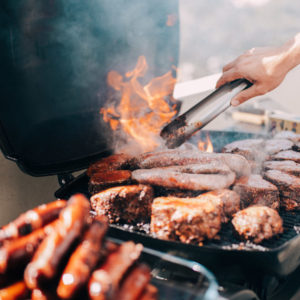 Grill Night
Indulge yourself with our big Saturday grill night. Homemade classic beef burgers, sticky pork ribs, juicy steaks, grilled fish and more!
Sunday Roasts
Our roasts are back after a break over the summer! Book to avoid dissapointment.  
Opening Hours (20th November - 10th December 2023)
| | Cafe (Food service) | Drinks |
| --- | --- | --- |
| Monday | 9am-2.30pm | 9am-3pm |
| Tuesday | 9am-2.30pm | 9am-3pm |
| Wednesday | 9am-2.30pm | 9am-3pm |
| Thursday | 9am-2.30pm | 9am-3pm |
| Friday | 9am-2.30pm & 5pm-8.30pm | 9am-9pm |
| Saturday | 9am-2.30pm & 5pm-8.30pm | 9am-9pm |
| Sunday | 9am-12pm & 1pm - 4pm | 9am-5pm |
Opening Hours (Summer season)
| | Cafe (Food service) | Drinks |
| --- | --- | --- |
| Monday | 9am-2.30pm | 9am-9pm |
| Tuesday | 9am-2.30pm | 9am-9pm |
| Wednesday | 9am-2.30pm & 5pm-8pm | 9am-9pm |
| Thursday | 9am-2.30pm | 9am-9pm |
| Friday | 9am-2.30pm & 5pm-8.30pm | 9am-9pm |
| Saturday | 9am-2.30pm & 5pm-8.30pm | 9am-9pm |
| Sunday | 9am-12pm & 1pm-4pm | 9am-9pm |